2017 Annual Meeting
2017 Annual Meeting – St. Jones National Estuarine Research Reserve
The 2017 meeting of the Mid-Atlantic Chapter of the American Fisheries Society was a huge success thanks to the dedication and passion of our membership and generous donors. The meeting took place over two days (10/26-10/27) at the Delaware National Estuarine Research Reserve in Dover, DE. Overall, we had an excellent, diverse selection of both oral (n=29) and poster presentations (n=23). We had 96 individuals register and 85 attendees on the first day of the meeting. Our plenary speaker, Dr. Olaf Jensen of Rutgers University provided a superb, thought provoking talk documenting misconceptions in Fisheries Science with current examples to challenge how we are responding to current issues in fisheries management. The geographical reach of our presentations ranged from our own nearby estuaries to the frigid waters of Antarctica. At the business meeting, we discussed the finances of our chapter, and some of the needs for the upcoming international meeting in Atlantic City, NJ. Our Executive Director, Doug Austen, as well as our current AFS President Steve McMullin both provided comments during the business meeting, as well as our AC2018 Meeting Co-Chair Jeff Brust. Overall, the Chapter is looking forward to continuing to plan for AC2018 and advance the overall mission of the American Fisheries Society.
Respectfully,
Ed Hale
2017 MAC-AFS Past-president
Conference Venue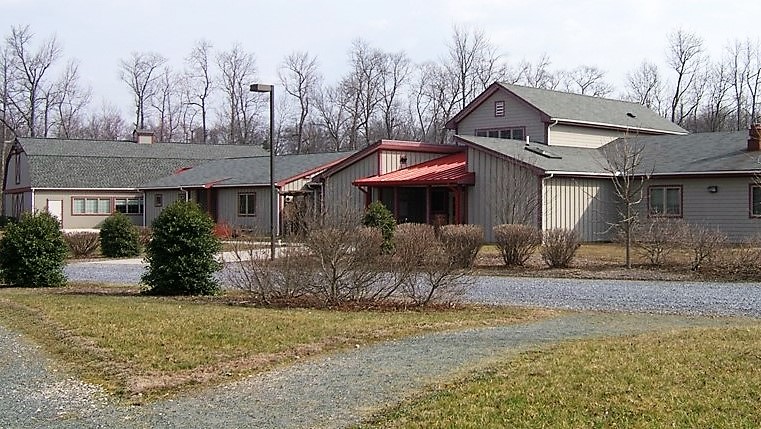 A snapshot of conference attendees.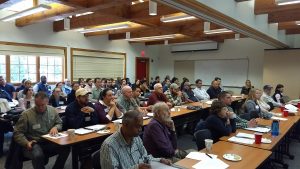 Dr. Olaf Jensen of Rutgers University delivering his plenary talk.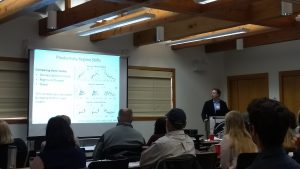 Doug Austen, the Executive Director of the American Fisheries Society addresses the crowd.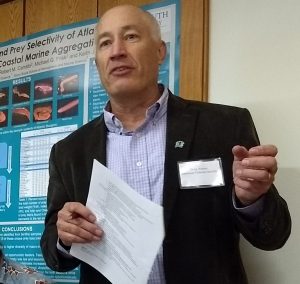 Full Program
2017 Treasurer's Report